THE BITTER OLEANDER AUTUMN ISSUE FOR 2021

Volume 27, Number 2

FEATURES
THE POETRY OF ALICE PETTWAY

Alice Pettway's published work spans poetry, fiction and nonfiction. She is the author of three full-length collections of poetry, The Time of Hunger (Salmon Poetry, 2017), Moth (Salmon Poetry (2019), and Station Lights (Salmon Poetry, 2021), and a poetry chapbook, Barbed Wire and Bedclothes (Spire Press, 2009). Pettway's poems have appeared in numerous literary journals, including The Threepenny Review, The Southern Review and AGNI, and are included in the anthologies Days of Clear Light (Salmon Poetry, 2021), Spheres and Canticles (Propertius Press, 2021), Forgotten Women (Grayson Books, 2017), and Di•verse•city (Austin International Poetry Festival, 2005). She has also been a frequent contributor to The Bitter Oleander since her first publication with us in 2003. Pettway's nonfiction, primarily focused on education equity and reproductive rights, has been featured in respected publications including The Progressive and Teaching Tolerance magazine. A former Lily Peter and Chultina Artist fellow, she is scheduled for a residency, deferred from spring 2020 due to the pandemic, at Art Omi: Writers in New York this fall.
Born in the United States, Pettway has also lived in Germany, Mozambique, Colombia and China, and has traveled extensively around the world, allowing her to interact with writers and readers from many different cultures at events ranging from the Shanghai International Literary Festival to an evening with the Toastmasters club at Carnegie Mellon Africa to speaking with young writers at the Seoul Foreign School. While persuing her creative and advocacy writing, Pettway has also worked as a managing editor, copywriter, teacher, marketing coordinator, development manager and even costume designer.
---
THE FOLLOWING IS EXCERPTED FROM ALICE PETTWAY'S INTERVIEW WITH PAUL B. ROTH:
Paul B. Roth: Wherever this "abstract hometown" happens to be, are you able to maintain any ritual, condition or surroundings in which you can best write, in spite of everything being so different: the way food's obtained, the facial expressions you might encounter, where you happen to reside, its acceptable levels of noise, even the furniture you inherit, or is that simply different cultures offering their own distinct sense of place?
Alice Pettway: My writing process stays basically the same no matter where I am physically. I tend to have my best ideas while I'm doing other things. Typically, what sparks a poem for me is an interaction I overhear or a visual that snags my attention. Sometimes a sound or a smell. Discrete observations are almost always where I start writing, and then I work my way into understanding what meaning those concrete details can convey more broadly. It's pretty hard to just sit down in the middle of a street or office or bus or wherever and just start writing, though! So I always carry a notebook, or sometimes resort to making notes on my phone if it comes to that. I jot down little observations whenever they strike me and then I have a running catalog of interesting images to play with when I sit down at home to write. I'm a bit of a night owl, so the exploration of what sort of poem an image might become often happens in the quiet of the late night or early morning hours for me. I also have what's maybe a strange habit of finding an instrumental song, or maybe a song with lyrics in a language I don't speak, that fits the mood of the poem I'm trying to write and then listening to it on repeat while I work. Something about having that steady rhythm in the background helps me shift my way of thinking, almost like the feeling when your mind wanders while you're driving, and you end up in all sorts of interesting mental places you wouldn't if you were concentrating on thinking instead of the road.
---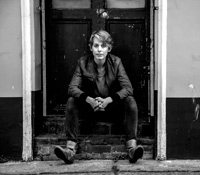 Photograph (Bogota, 2017) by Patrick O'Brien
TWO OF ALICE PETTWAY'S POEMS AS FEATURED IN OUR AUTUMN 2021 ISSUE AND TAKEN FROM HER BOOK Station Lights
published by Salmon Poetry in 2021:
(1)
HOMECOMING



It's a new thing: children and rotary phones,
bulbous handsets, all the rage on social media,
their oversized eyes searching for a screen,
staring into the receiver's pinprick holes.
I examined my parents' house from the street
last summer when I came through town
and could not decipher how I was meant
to operate it, this wooden box filled
with people I know are trying to talk to me.
---
(2)
THE BIOMECHANICS OF SELF CONTROL
The muscles of my face pull at my skull, small animals
worrying at an abandoned kill. The breath must lie
silent and slow or the scavengers will discover it,
drag it from my chest, a wild organ unfolding free
of my ribs. stillness and careful direction of the eyes.
A firmness of bone and position. Someone taught me
to stay downwind. I taught myself. The underbrush
taught me. Stay here it said. twitch your thighs,
your calves, the arches of your feet, but keep still.
It's the ones who run, their cries unfurling
behind them, who never last the night.