THE BITTER OLEANDER SPRING 2019 ISSUE

Volume 25, Number 1

FEATURES
RAY KEIFETZ
Ray Keifetz is the author of short stories, poems, and the poetry collection Night Farming In Bosnia (Bitter Oleander Press, 2018). Like many addicted to day dreaming (among them not a few writers), Ray has come and gone through numerous jobs, none of them colorful enough to list on a bestselling novel's back flap, but varied enough to offer glimpses into what people dance to. A graduate of the University of Massachusetts, Amherst, where he studied art and architecture, he took up Cabinet Making to support his writing, but soon found himself designing and building one of a kind pieces of hardwood furniture, one more art in need of a job.
Over the years his poems and stories have appeared in such literary journals as The Bitter Oleander, Briar Cliff Review, Kestrel, the Louisville Review, Other Voices, Sugar House Review and others. His poems have twice been nominated for Best New Poets, while his stories have received two Pushcart Prize nominations. "Miriam's Lantern" (first published in Clackamas Literary Review) has twice been anthologized – in "Among Animals", Ashland Creek Press, 2014, and the online Compassion Anthology, summer 2017. Night Farming In Bosnia, Ray's debut collection, won the Bitter Oleander Press Library of Poetry Award, 2017.
Originally from the Northeast, Ray Keifetz currently resides in Northern California with his wife, the painter Virginia Beringer, and two Maine Coon cats. He helps support them and his writing peddling wine.
---
The following is excerpted from Ray Keifetz's feature interview with TBO's editor:
The Bitter Oleander: Once in that "room," in that "solitude," what, if anything, helps facilitate your writing?
Ray Keifetz: Fortunately I realized at the outset that the proverbial starving artist if not fed at least once in a while soon becomes a dead artist, and I accordingly equipped that bare room with a fridge. But seriously, this is not an easy question for me to answer. Discovering what one needs for accomplishing a task can sometimes be more challenging than the task itself, especially when that task is writing. Though a million books have been written on the subject, writing is such an idiosyncratic pursuit that there really are no precedents. Each writer is stuck reinventing the wheel. I used to have an endless list of needs, and at the top of that list was time. I needed more time, long unbroken expanses of time to martial my thoughts, never doubting that they were worth martialing, no interruptions, no irritations, no responsibilities to anything other than my work.
Like a hunter in the jungle, I would go into that room and not come out until I'd bagged a great beast. Those beasts had little to fear. I spent more time day dreaming about what I would write if I ever had time to write than on actually writing. Someone had locked the door on me, and that someone was myself. These days I take that room with me wherever I go, like a camper shell. Idling on the shoulder of the road already late for work, I jot down a sudden line. Red lights are my friends. Tedious, unnecessary business meetings godsends. I have started poems in parking lots, supermarket checkouts, waking in the middle of the night. Yoga reminds us that there are only so many breaths to each life and those breaths are equally precious. We can't see those breaths from afar, only breathe them. And so it is for me with writing. I've finally managed to stop thinking about it.
---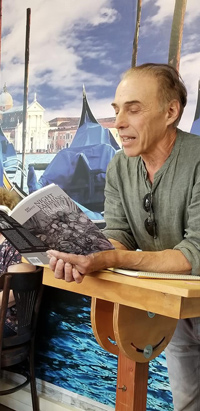 Photograph by Lara Gularte
A SELECTION OF RAY KEIFETZ'S WORK AS FEATURED IN OUR SPRING 2019 ISSUE:
So Few Get Through

I took you from the plugs
and catheters, from the handlers
holding the unforgiven.

The moonlight was hard at first,
the meadows steeped
in salt, the razor palmettos
gleaming with snakes
who shed their skin
beneath our kindred feet.

Alone in the saw grass,
owls, alligators, folded for the night,
no difference if we flew
or crawled through the maze,
fell or made a stand.
We tried to speak. Farewells
among beasts.

Silently then
down the teeming street,
our dreams in the gutter,
in doorways, in rotting piles
below your window
where I left you ankle deep
tugging at the shade.